DH Maintenance
Is your home or business in need of refurbishment, redecoration or repair?
Look no further than DH Maintenance.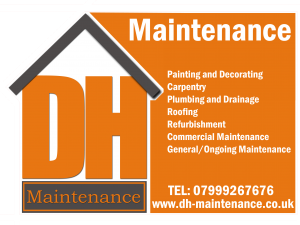 DH Maintenance is a reliable and friendly company working with homeowners, landlords and businesses in the Bolton and surrounding areas. With our experienced team of plumbers, carpenters, roofers and other specialist tradesmen, we can supply tradesmen to tackle jobs of all sizes and descriptions.
Every month DH Maintenance takes on new and varied tasks, from fixing leaky taps to large scale renovation. Examples of typical jobs we undertake include fitting bathrooms, replacing decking, installing radiators, tiling walls, unblocking drains and fixing guttering, all of which are carried out reliably and accurately by qualified tradesmen. We offer custom work in addition to straightforward repairs
and touch ups, incorporating any special requests or existing materials that you
wish to provide. If you're not sure if your job or project is something DH Maintenance can help you with, give us a call. In the unlikely event that we can't help, we'll recommend someone reliable who can.
Improve Your Property's Appeal
With interior and exterior services available for all properties, you can benefit from a high quality tailored finish to add instant value and appeal to your home or business.
DH Maintenance specialises in work for homeowners and landlords wishing to sell or rent problem properties or increase their market value.
DH Maintenance Services
Painting and Decorating
Carpentry
Plumbing and Drainage
Roofing
Property Refurbishment
Commercial Property Maintenance
General/Ongoing Property Maintenance
All DH Maintenance services are available for businesses as well as homes, offering excellent value for money. You can rely on us to work around you and your schedule with minimal hassle and little disruption to your business or home life
Scalable Services
One of the many advantages of hiring DH Maintenance is that we can scale our services to suit you. Whether you have a simple one-man job or need a team of professionals with different areas of expertise we can allocate the best resources for your particular task and change them in line with your changing needs.
We offer a range of planning, fitting and general refurbishment services for homeowners, landlords and business owners alike.
Our free advice service can help you if you don't know where to start or want an opinion on the best use of your space.